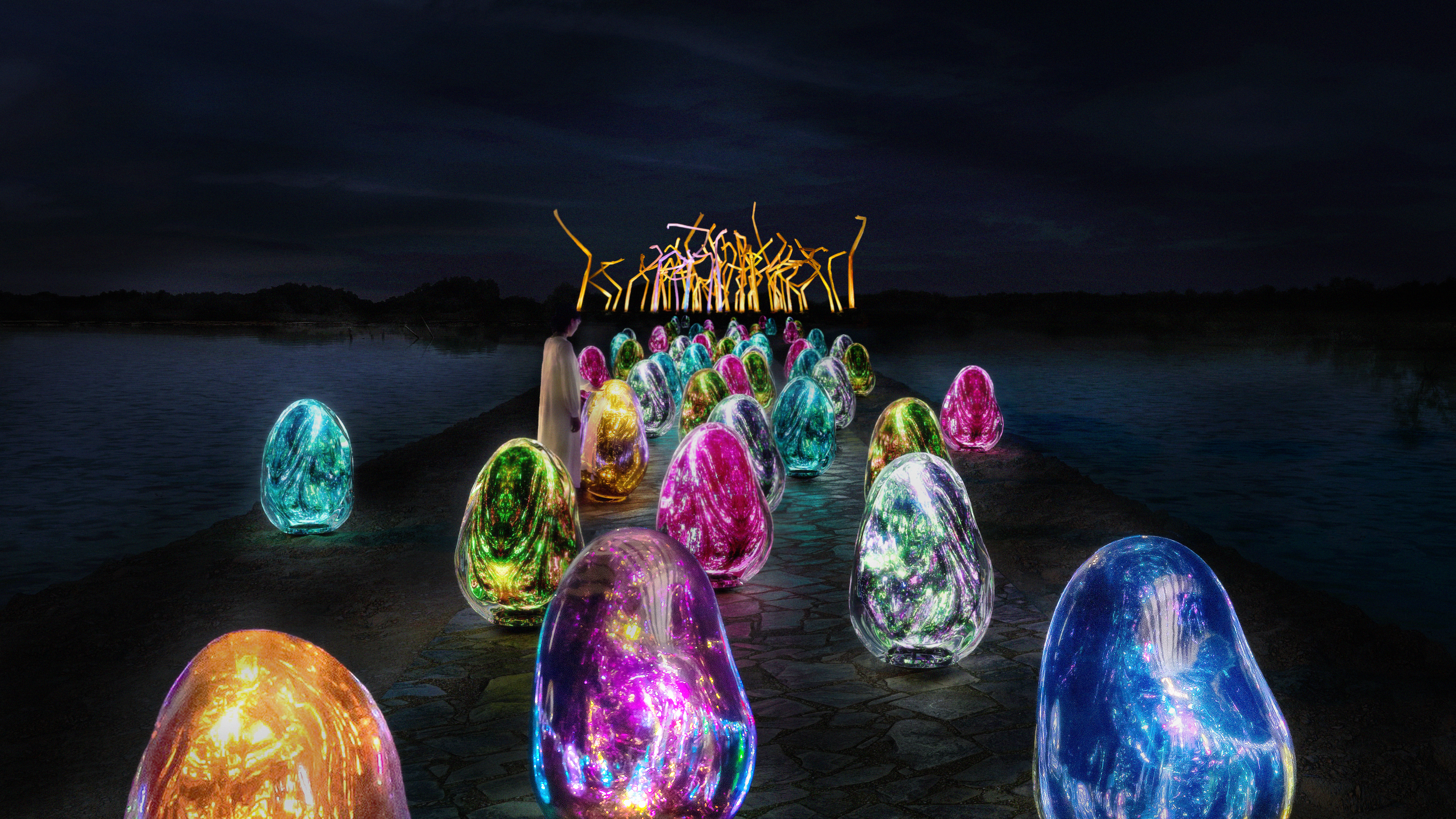 teamLab, Resonating Microcosms – Solidified Light Color © teamLab. Courtesy DCT Abu Dhabi, 2023.
From 15 Nov 2023 to 30 Jan 2024, Manar Abu Dhabi, a Public Art Abu Dhabi initiative, will transform the city's natural vistas with a series of mesmerising light art exhibitions.
Under the theme 'Grounding Light', the exhibition will showcase over 35 new site-specific commissions and light sculptures, projections and immersive artworks by artists including Alaa Edris, Carsten Höller, Groupe F, Mohammed Kazem, Rafael Lozano-Hemmer, Samia Halaby, teamLab and more.
Manar Abu Dhabi will extend across the city through key locations including Lulu Island, Corniche Road, Samaliyah Island, Fahid Island, Jubail mangroves, Saadiyat Island, and the Eastern mangroves.
ABU DHABI, United Arab Emirates, Oct. 10, 2023 (GLOBE NEWSWIRE) — Manar Abu Dhabi is set to illuminate the archipelagos and mangroves of the UAE capital from 15 November 2023 to 30 January 2024, with an exhibition of new commissions and site-specific light sculptures, projections, and immersive artworks by local and international artists.
A key pillar of the Public Art Abu Dhabi initiative, announced by the Department of Culture and Tourism – Abu Dhabi (DCT Abu Dhabi) earlier this year, Manar (the Arabic word for "lighthouse") will offer residents and visitors opportunities to engage with stunning artworks and experience the transformative power of light.
Held under the theme Grounding Light, the inaugural edition of Manar Abu Dhabi is co-curated by Reem Fadda, Director of Abu Dhabi Culture Programming and Cultural Foundation and Artistic Director of Public Art Abu Dhabi, and Alia Zaal Lootah. Offering an immersive, multi-sensory experience which celebrates the emirate's natural beauty, the exhibition will invite audiences to see Abu Dhabi's coastal areas in a new light.
The artworks will be displayed across several key locations throughout Abu Dhabi, including Lulu, Saadiyat, Jubail, Al Samaliyah and Fahid islands, and other coastal areas such as Corniche Road, and the Eastern mangroves. Visitors will embark on a 2.3-kilometre art journey through Al Samaliyah, witness a Saadiyat Cultural District museum-inspired drone show on Saadiyat, and explore mesmerising displays on Lulu.
HE Mohamed Khalifa Al Mubarak, Chairman of DCT Abu Dhabi, said: "Manar Abu Dhabi is more than just an art exhibition. It's a testament to our long standing and continued commitment to public art and the cultural growth of our city. Our vibrant, dynamic city is the canvas, and the light art is a bridge connecting our past, present, and future. While appealing to audiences across the Abu Dhabi community and beyond, we especially aim to inspire the young minds who are our future. Through this immersive experience, we hope to encourage imagination, sense of wonder, and appreciation for our beautiful natural environment."
Rita Aoun, DCT Abu Dhabi's Culture Sector Executive Director, said: "Culture is at the heart of Abu Dhabi's identity. With Manar, we are engaging our community in a dialogue that connects the aesthetic, historical, and social values of the city. The magic of light art is its ability to transcend traditional boundaries, bringing together people from all walks of life. This transformative journey speaks to the emirate's cultural vision anchored in the collective memory of its residents and enhancing the liveability, wellbeing, and accessibility to all forms of art. We hope that every Abu Dhabi resident and visitor will sense a newfound connection to the city, inspired by the visual narrative woven by exceptionally talented artists."
Over 35 site-specific artworks by local and international artists have been commissioned for Manar Abu Dhabi, spanning a diverse array of mediums including light projections, sculptures, installations, and performances. Hailing from Argentina, Germany, France, Japan, India, Mexico, Palestine, Saudi Arabia, Taiwan, Tunisia, the UAE, UK and USA, artists include Ahmed Al Areef Al Dhaheri, Alaa Edris, Asma Belhamar, Ayesha Hadhir, Ayman Zedani, Carsten Höller, Groupe F, Jim Denevan, Jumairy, Latifa Saeed, Rain Wu, Luciana Abait, Mohammed Kazem, Nadia Kaabi-Linke, Nujoom Alghanem, Rafael Lozano-Hemmer, Samia Halaby, Shaikha Alketbi, Shezad Dawood, Shilpa Gupta, Rawdha Al Ketbi and teamLab.
"Grounding Light is an experience designed to transform our perception of the world around us," said Reem Fadda, Artistic Director of Public Art Abu Dhabi. "The exhibition brings together an extraordinary array of artists whose works are intended to foster a sense of calm, engagement and appreciation of Abu Dhabi's unique biodiversity and natural beauty. It is an exhibition that marries the elements of nature, water, and light art to create a one-of-a-kind experience unique only to Abu Dhabi. Each piece will not only enhance our experience of the emirate's beautiful water landscapes, but also resonate with visitors long after the exhibition, prompting reflection on the bond that connects us to the earth beneath our feet and to each other, as well as on the role of public art in shaping our collective experiences."
Curator of Manar Abu Dhabi, Alia Zaal Lootah, said: "The exhibition programme reflects the rich cultural legacy and contemporary aspirations of our city. This immersive public art platform will further shape the creative expression of the city and inspire community engagement by offering residents and visitors the opportunity to engage and connect with art in some of Abu Dhabi's most beautiful natural locations."
A robust public programme of talks, workshops, and art performances will take place throughout Manar Abu Dhabi's duration.
Manar Abu Dhabi is part of Public Art Abu Dhabi's ongoing commitment to commissioning public art for the emirate; two other major long-term elements include the Public Art Abu Dhabi Biennial, launching in November 2024, and artist commissions. Since its launch in March 2023, Public Art Abu Dhabi has continued to bolster DCT Abu Dhabi's longstanding efforts in enhancing spaces of historical, aesthetic, architectural, social, scientific, and technological value, paying homage to the vibrant cultural legacy of the city while looking to the future.
Manar Abu Dhabi Press Kit, including imagery, is available here: https://rb.gy/mn70q
Manar Abu Dhabi website is here: http://paad.ae
PRESS ENQUIRIES:
Anastasia Lander, Pelham Communications
anastasia@pelhamcommunications.com
NOTES TO EDITORS
PARTICIPATING ARTISTS

NAME
COUNTRY
Ahmed Al Areef Al Dhaheri (b. 1988)
UAE
Ayesha Hadhir (b. 1994)
UAE
Alaa Edris (b. 1986)
UAE
Asma Belhamar (b. 1988)
UAE
Ayman Zedani (b. 1984)
Saudi Arabia
Carsten Höller (b. 1961)
Germany
Groupe F (est. 1990)
France
Jim Denevan (b. 1961)
USA
Jumairy (b. 1992)
UAE
Latifa Saeed (b. 1985)
UAE
Luciana Abait (b. 1971)
Argentina
Mohammed Kazem (b. 1969)
UAE
Nadia Kaabi-Linke (b. 1978)
Tunisia
Nujoom Alghanem (b. 1962)
UAE
Rafael Lozano-Hemmer (b. 1967)
Mexico
Rain Wu (b. 1987)
Taiwan
Samia Halaby (b. 1936)
Palestine
Shaikha Alketbi (b. 1995)
UAE
Rawdha Al Ketbi (b. 1997)
UAE
Shezad Dawood (b. 1974)
UK
Shilpa Gupta (b. 1976)
India
teamLab (est. 2001)
Japan
About the Department of Culture and Tourism – Abu Dhabi:
The Department of Culture and Tourism – Abu Dhabi (DCT Abu Dhabi) drives the sustainable growth of Abu Dhabi's culture and tourism sectors, fuels economic progress and helps achieve Abu Dhabi's wider global ambitions. By working in partnership with the organisations that define the emirate's position as a leading international destination, DCT Abu Dhabi strives to unite the ecosystem around a shared vision of the emirate's potential, coordinate effort and investment, deliver innovative solutions, and use the best tools, policies, and systems to support the culture and tourism industries.
DCT Abu Dhabi's vision is defined by the emirate's people, heritage, and landscape. We work to enhance Abu Dhabi's status as a place of authenticity, innovation, and unparalleled experiences, represented by its living traditions of hospitality, pioneering initiatives and creative thought.
For more information about DCT Abu Dhabi and the destination, please visit tcaabudhabi.ae and visitabudhabi.ae  
For Abu Dhabi Calendar, please visit inabudhabi.ae  
About Public Art Abu Dhabi
Public Art Abu Dhabi is the Department of Culture and Tourism – Abu Dhabi (DCT Abu Dhabi)'s new initiative under its ongoing commitment to commissioning public art for the emirate. Integral to this initiative is its community engagement efforts. The initiative advances the creative legacy, cultural infrastructure, liveability, and wellbeing of the UAE capital's residents through placemaking and collective memory. An investment of over 35 million US dollars is dedicated to the initiative annually, to support the emirate's wider creative industries through public art.
For more information about Public Art Abu Dhabi, please visit http://paad.ae.
A photo accompanying this announcement is available at https://www.globenewswire.com/NewsRoom/AttachmentNg/3dadf0d3-24cc-4d28-886f-b931aa8b529b