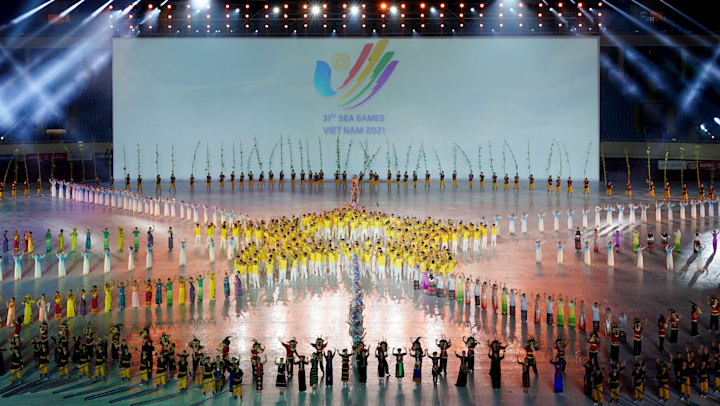 SEA Games: The spirit of Asean togetherness was on full show last night when the 31st edition of the SEA Games officially started in Hanoi after a year of delay due to the Covid-19 outbreak.
The planners limited participation in the opening ceremonial march-past to 31 people from each of the 11 competing countries.
Olympian diver Nur Dhabitah Sabri was beaming as she led the Malaysian delegation out onto the field at My Dinh Stadium, dressed in tiger print clothes.
Dhabitah stayed behind as the rest of her colleagues returned home following a brilliant performance in the diving competition, when they won all eight gold medals on offer.
Among the prominent flag bearers was Filipino pole vaulter Ernest John Obiena, who had his dream granted.
Ernest was picked as his country's flagbearer for the Tokyo 2020 Olympics, but he violated a rule that required all contestants to arrive 48 hours early.
The Indonesian delegation was led by Asian Games silver medalist hurdler Emilia Nova, the first woman to receive the honor in a multi-Games competition.
Vietnam was the last to go, and their flagbearer was none other than star swimmer Nguyen Huy Hoang, who is poised to light up the pool starting tomorrow.
The theme of last night's opening ceremony was "Let's Shine."
The SEA Games were to symbolize not simply the desire to emerge triumphantly, but also the message of togetherness, resilience, and sustainability demonstrated by the Asean nations in the middle of the Covid-19 outbreak.

SEA Games Organizer, Vietnam
The Olympic champion shooter Hoang Xuan Vinh delivered the torch to double SEA Games winner Quach Thi Lan to fire the cauldron, which was the centerpiece of the brief but colorful and meaningful opening ceremony.
Xuan Vinh, Vietnam's lone Olympic winner, is now coaching, and the organizers intended to communicate the notion of transferring the torch from one generation to the next.
The lighting of the torch also signals the beginning of the 10-day medal rush.
More than 5,000 competitors will compete in 526 medal events in 40 sports.
Along with blue-ribbon athletics and swimming, esoteric sports such as vovinam, fin swimming, and xiangqi (Chinese chess) are making their presence felt on the SEA Games stage.
The Malaysian contingent of 584 competitors will compete in 37 sports. Vovinam, handball, and wrestling are the only sports in which Malaysia has no interest.
Malaysia had a head start in the gold medal race by winning nine gold medals in diving and Pencak Silat.
Follow NewsAsiaToday for more lifestyle, food, entertainment, and travel scoops.