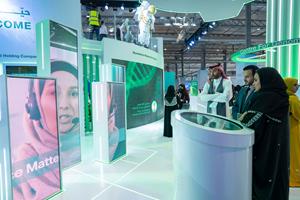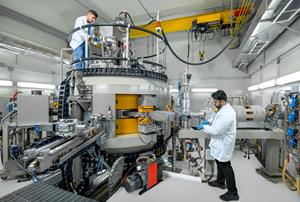 RIYADH, Saudi Arabia, Oct. 30, 2023 (GLOBE NEWSWIRE) — For the past four decades, the Cyclotron and Radiopharmaceuticals Department at King Faisal Specialist Hospital and Research Centre (KFSH&RC) has been addressing the needs of local and regional medical centers for radiopharmaceuticals used in diagnosing and treating various specialized diseases.
Since its establishment, the department has produced over 25 types of radiopharmaceuticals with a production capacity exceeding 600,000 radiopharmaceutical preparations. The department continues to provide its products to over 50 specialized Saudi medical centers, aiming to achieve self-sufficiency in the field of radiopharmaceuticals in the Kingdom of Saudi Arabia.
During the Global Health Exhibition that commenced yesterday in the capital city of Riyadh, where KFSH&RC participates as a strategic health partner, the hospital highlights the department's pioneering role in nuclear medicine. This includes enhancing the capabilities of healthcare providers in both research and education, as well as ensuring the quality in the production and distribution of radiopharmaceuticals to hospitals across the Kingdom and beyond.
The Cyclotron and Radiopharmaceuticals Department aspires to become a diagnostic and molecular imaging center and the first facility for Technetium-99m (Tc-99m) generators in the Kingdom. It conducts research to develop high-quality radiopharmaceuticals for KFSH&RC and other hospitals throughout the Kingdom to meet all healthcare needs of patients. The department adheres to high-quality standards for automated quality control and assurance while striving to advance cyclotron technology, precise radiopharmaceutical manufacturing, and the development of radiopharmaceuticals used in positron emission tomography/computed tomography (PET/CT).
The department significantly emphasizes quality, with an integrated product quality control and management unit, manufacturing materials following Good Manufacturing Practices (GMP), the Saudi Food and Drug Authority (SFDA) standards, and ISO 9001 international quality management system standards. All operational processes are subjected to rigorous monitoring for the periodic evaluation of materials, ensuring their continuous suitability. This approach has led to a remarkable customer satisfaction rate exceeding 95%.
KFSH&RC is globally recognized for providing specialized healthcare and is a leader in innovation, advanced medical research, and medical education. The institution actively seeks to develop medical technologies and enhance the standard of healthcare worldwide, partnering with leading local, regional, and international organizations to deliver world-class services in clinical, research, and educational domains.
Contact information:
kfshrc@mcsaatchi.com
Photos accompanying this announcement are available at
https://www.globenewswire.com/NewsRoom/AttachmentNg/ad78d2ea-0d15-45ae-a3bd-cd25f7bf7ab9
https://www.globenewswire.com/NewsRoom/AttachmentNg/1d1f90e9-3a44-43cf-8812-af6760e2d0b2