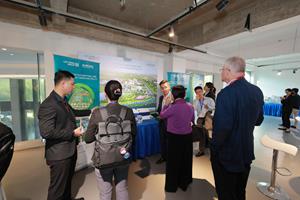 SHANGHAI, China, Oct. 27, 2023 (GLOBE NEWSWIRE) — One of the most anticipated events for the textile industry "Global Textile Carbon Neutral Summit 2023" took place in Shanghai, China on October 24th -25th 2023 with the aim of fostering collaboration among industry players towards sustainable growth. Cat Tuong Group (CTG) – investor of Aurora Industrial Park (Aurora IP), is the only Vietnamese representative attending the conference.   
Global textile event on carbon neutrality
Global Textile Carbon Neutral Summit 2023 is a prestigious event, which gathered 150 leading brands, retailers, textile manufacturers, material suppliers as well as non-governmental organizations, consulting firms, and sustainable solution enterprises to share and exchange practical methods.
In the context of promoting a low-carbon economy and advocating clean production, the textile and apparel industry has a responsibility to reduce carbon emissions. The textile industry's trend of creating low-emission production technologies and achieving carbon neutrality calls for proactive actions at every single link in the supply chain.
By introducing new technological advancements and promoting clean production, improving energy efficiency, the textile industry can reduce energy consumption and carbon emissions, gradually working towards carbon neutrality goals.
Organizations and businesses attending the event shared sustainable solutions and exchanged practical methods to promote green, clean, and sustainable production. At the same time, this is also an opportunity for businesses to increase transparency in the supply chain, carbon emission calculation, and important data to ensure the sustainable development of the entire industry chain.
Aurora IP introduces low carbon emission solutions
Being the sole Vietnamese delegate, CTG came to the event with the goal of introducing to international guests the Aurora IP model, which specializes in low-carbon textile and garment industrial parks. The model incorporates emissions through planning and implementing necessary solutions to achieve carbon neutral status, paving way towards a net zero emissions in the entire sector in the future.
Located in the northern Nam Dinh province, the cradle of the Vietnam's textile industry, Aurora IP occupies a prominent site in the Ninh Co Economic Zone, which is 14,000 hectares wide and is developed synchronous infrastructure from planning, design to construction to meet the strict requirements of the textile and dyeing process.
With solutions addressing both energy and non-energy-related challenges faced by the textile industry, Aurora IP underscores its commitment to global corporate responsibility toward the environment and society.
Specifically, for energy-relating issues, Aurora IP introduces a solution to develop centralized boilers with options for using input materials, prioritizing heating by biomass fuel sources, LPG towards LNG with specific roadmap and orientation; planning a centralized gas system to supply to each factory. Along with developing the 110kV transformer station and the 22kV medium voltage grid system, Aurora IP also actively possesses the right to purchase and sell electricity, focuses on offering solar power and clean energy solutions, and takes part in the direct electricity trading mechanism (DPPA or CPPA).
Regarding non-energy aspects (clean water supply system, wastewater treatment system, waste treatment, implementation of circular economic model), Aurora IP invests in water supply and wastewater treatment facilities to improve the efficiency of water resources. Furthermore, the industrial park picks and draws tenants from the same industry to assist in maintaining a tight supply chain. It also encourages companies to employ green materials, cut down on chemical ingredients, use electric cars and create a network of charging stations.
"Grasp the development trend of the textile industry, we are paving the way for eco-industrial park with Aurora IP to resolve issues facing the whole sector and helping solidify the leading position of Vietnam's textile industry in the global market. At the same time, we also deploy solutions to assist textile and apparel businesses' carbon neutrality targets while also creating opportunities for the whole supply chain to achieve net zero emissions. Our constant goal is to establish the foundation for the textile and apparel industries' sustainable development," said a representative of Cat Tuong Group.
https://www.globenewswire.com/NewsRoom/AttachmentNg/5bdd9d03-ecb6-4b0c-844c-d28b34e1025c
info@auroraip.vn