VANCOUVER, British Columbia, June 21, 2023 (GLOBE NEWSWIRE) — Arbor Metals Corp. ("Arbor" or the "Company") (TSXV: ABR, FWB: 432) is pleased to provide stakeholders with its overview of the lithium market's key developments thus far in 2023. As the demand for lithium continues to surge and questions about supply persist, Arbor remains committed to monitoring and analyzing market trends to best position itself in this evolving landscape.
Since the start of 2020, lithium carbonate prices have increased by over 585%.1 The future of lithium appears promising, with the demand expected to skyrocket in the upcoming years, primarily fuelled by the electric vehicle (EV) industry.
In 2023, the lithium market witnessed significant announcements that shaped the industry. Here is an overview of the main news we have seen impacting the sector thus far this year:
Lithium Producers: Major lithium producers are expressing confidence in the market's long-term prospects. With lithium brine assets in the US and the Salar de Atacama in Chile, Albemarle expects strong sales volume growth in the energy storage segment for 2023.2 SQM forecasts increased demand this year, while Livent reported revenue growth in Q1 2023 and remains on track with capacity expansions.3
Lithium M&A Activity: Consolidation in the lithium space has accelerated in 2023. Albemarle's unsuccessful bid for Liontown Resources4 and a joint venture's unsuccessful bid for Essential Metals5 exemplify the heightened interest in merging or acquiring lithium projects. The mega-merger deal between Livent and Allkem, valued at US$10.6 billion, underscores the trend of consolidation driven by rising lithium demand.6
EV Makers and Lithium Supply: Electric vehicle manufacturers continue to secure lithium supply agreements, which have included agreements with already established producers. This growing focus on securing lithium supply demonstrates automakers' recognition of the importance of securing critical resources for the EV industry's growth.
Chile's Lithium Industry: Chile, the world's second-largest lithium producer, has announced plans to nationalize its lithium industry.7 The government's goal is to stimulate the economy and safeguard the environment by issuing future lithium contracts via public-private partnerships with state oversight. This move aligns with Chile's intention to encourage direct lithium extraction techniques to accelerate production and reduce water consumption.
Arbor remains committed to navigating the dynamic lithium market and capitalizing on the evolving landscape. The Company continues to assess strategic opportunities, advance its lithium projects, and contribute to the global transition towards cleaner and sustainable energy solutions.
About Arbor Metals Corp.
Arbor Metals Corp. is a mining exploration company focused on developing high-value, geographically significant mineral projects worldwide. Arbor is paving the way for advanced mineral exploration as it oversees world-class mining projects. The company is confident that combining quality projects with proven strategies and a dedicated team will yield exceptional outcomes. Arbor currently oversees three outstanding mineral projects.
The Jarnet lithium project, located in the James Bay region of Quebec, comprises 47 map-designated claims, covering an area of approximately 3,759 hectares. The Jarnet project is contiguous to the Corvette-FCI property, where diamond drilling has confirmed significant lithium mineralization, and represents one of the highest-profile lithium exploration projects in the sector.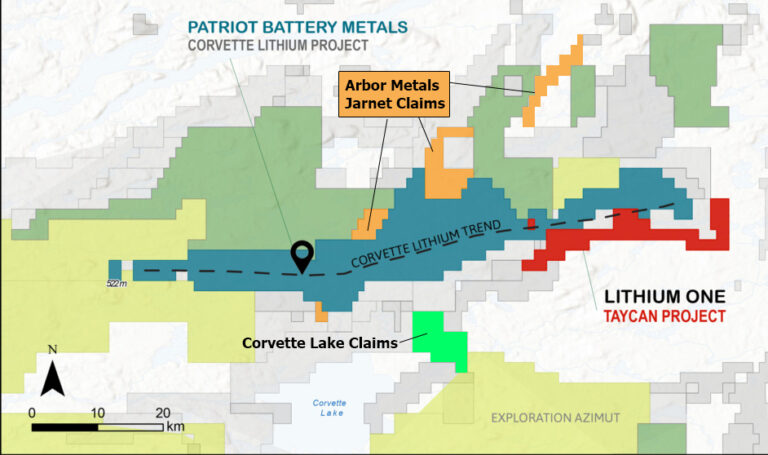 For further information, contact Mark Ferguson, Chief Executive Officer, at info@arbormetals.com or visit the Company's website at www.arbormetalscorp.com.
On behalf of the Board,
Mark Ferguson, Chief Executive Officer
Neither the TSX Venture Exchange nor its Regulation Services Provider (as that term is defined in policies of the TSX Venture Exchange) accepts responsibility for the adequacy or accuracy of this release.
This news release may contain certain "Forward-Looking Statements" within the meaning of the United States Private Securities Litigation Reform Act of 1995 and applicable Canadian securities laws. When or if used in this news release, the words "anticipate," "believe," "estimate," "expect," "target, "plan," "forecast," "may," "schedule," and similar words or expressions identify forward-looking statements or information. These forward-looking statements or information may relate to planned project development and other factors or information. Such statements represent the Company's current views with respect to future events and are necessarily based upon a number of assumptions and estimates that, while considered reasonable by the Company, are inherently subject to significant business, economic, competitive, political and social risks, contingencies and uncertainties. Many factors, both known and unknown, could cause results, performance, or achievements to be materially different from the results, performance or achievements that are or may be expressed or implied by such forward-looking statements. The Company does not intend and does not assume any obligation, to update these forward-looking statements or information to reflect changes in assumptions or changes in circumstances or any other events affecting such statements and information other than as required by applicable laws, rules and regulations.
Contact Data
CONTACT:
Alex Zertuche
For E.S.T Office Hours, Call 1 416-477-0587
---
1 https://tradingeconomics.com/commodity/lithium
2 https://www.albemarle.com/news/albemarle-reports-net-sales-increase-of-129-for-first-quarter-2023
3 https://s22.q4cdn.com/453302215/files/doc_financials/2023/q1/Press-Release-LTHM-1Q23-Earnings_vFinal.pdf
4 https://www.reuters.com/markets/commodities/lithium-miner-liontown-soars-rejecting-37-bln-bid-albemarle-2023-03-28/
5 https://www.reuters.com/markets/deals/australias-essential-metals-shareholders-reject-tianqi-igo-bid-2023-04-20/
6 https://ir.livent.com/news/news-details/2023/Allkem-and-Livent-to-Create-a-Leading-Global-Integrated-Lithium-Chemicals-Producer/default.aspx
7 https://www.reuters.com/markets/commodities/worlds-biggest-lithium-producers-2023-04-21/
A photo accompanying this announcement is available at https://www.globenewswire.com/NewsRoom/AttachmentNg/3618b042-01cc-4fdc-9dc6-19987e9bc55d